Principal's Message
Katrina Samson
As we head into the last stretch of the school year, we're reminded that in a few short months our Grade 12 students will become Havergal graduates. When they head out into the world, we want to ensure our graduates leave prepared to be women of influence. To equip them to be agents of positive change, we believe that an education that places girls at the centre of learning plays a critical role.
Havergal faculty explore history, world issues, math, science, innovation and humanitarian issues through the lens of women. Putting the girls' perspectives at the centre of our learning helps instil confidence and inspire our graduates to do the work still needed to build a more equitable world. As International Women's Month comes to an end, it's important to celebrate the progress that has been made while acknowledging that there is still a great deal of work to be done. Empowering our students to become the leaders of tomorrow means ensuring that they leave Havergal prepared to take what they have gained here to advance the role of all women in our society.
During the Senior School years, our focus is not only on their academic enrichment, but also on equipping them to make the transition to university. We tailor our Wellbeing Program to focus on important conversations about wellbeing skills with student and parent communities. We discuss topics ranging from the importance of getting enough sleep to developing and sustaining healthy relationships, habits and skills that they will take into adulthood.
Our belief in the value and impact of a female-focused education is supported by data and statistics. In their 2018 report: Fostering Academic and Social Engagement: An Investigation into the Effects of All-Girls Education in the Transition to University, researchers concluded that girls' school graduates "are more engaged academically and socially than their co-educated peers," and when compared to their female peers at coed schools, girls' school graduates:
Have stronger academic skills.
Are more academically engaged.
Demonstrate higher science self-confidence.
Display higher levels of cultural competency.
Express stronger community involvement.
Exhibit increased political engagement.
If there is any doubt about the role of an education that focuses on girls' needs, one only needs to examine the outcomes associated with girls' education to see the difference schools like Havergal make.
By investing in high-quality girls' education in the primary and secondary years, we are making future investments toward increasing power and representation in places where women continue to be under-represented. In doing this important work advancing women's equity, we are positioning ourselves exceptionally well to extend our privilege to help ensure the same rights that we have fought for and continue to advocate for are extended to others—to people of colour, our Indigenous community, gender diverse people and those who benefit from allies who support their efforts for inclusion. I want to encourage our community to continue to champion girl-centred learning while also advocating for a more equitable world for all. With our collective support, our  graduates will play an important role in shaping a better tomorrow.
Katrina
Message from the Board of Governors
Brad Radin, Chair of The Havergal College Foundation Board of Trustees
The Havergal College Foundation is a registered charity that both receives and invests donations to support key priorities for Havergal College. The Foundation oversees an investment portfolio of mostly donor endowed funds, currently valued at $32,000,000. These endowed funds have been gifted over time by parents, Alums/Old Girls, graduating classes, faculty and staff. The Foundation disburses 4% of the value of the endowed funds annually to the school, exceeding the 3.5% Canada Revenue Agency requirement.
Working with investment advisors and in accordance with the Foundation's Investment Policy Statement, the Foundation ensures that its resources are prudently invested with the aim of both growing and preserving capital, while maintaining the ability to provide stable grants to the College for priorities such as student financial assistance.
The Foundation is governed by a board of nine Trustees, including ex-officio appointments of Havergal's Board of Governors and a member of the Havergal Old Girls Association.
Because Havergal's annual revenues must cover not only the present year's expenses, but also capital investment and infrastructure costs, fundraising is an essential ingredient to maintaining Havergal's ongoing fiscal health and viability. We are grateful to generations of donors, past, present and future, for their generous contributions and ongoing belief in Havergal's mission.
This Month
---
Founders' Day Celebration
Building a Better Future on Strong Foundations
Save the date for a special Founders' Day parent and student celebrations at Havergal on Thursday, April 21. Parents are invited to join their daughters for on-campus activities at the Junior School from 8 to 10 am and at the Upper School from 2:30 to 4 pm.
More details to come soon. We look forward to seeing you on April 21!
New HC Swag on the HCPA Marketplace
HC Puffer Jacket
The HCPA is thrilled to announce that (for a limited time only) Havergal puffer jackets will be available on the HCPA Marketplace. We know how much everyone loves to layer up and stay cozy!
We are delighted that these versatile black jackets are available in youth and women's sizes. The jackets will have the Havergal crest embroidered in white on the chest. What a wonderful way to show your HC Spirit!
HC Towel
Whether you're searching for a towel for swimming lessons, the beach or the dock, it's always great to have an extra on hand. For a limited time, Havergal-branded towels are available for purchase through the HCPA Marketplace.
The puffer jackets and towels are only available for order until Friday, April 8, so visit the HCPA Marketplace to order yours today. Both items will be distributed via porch pick up in early May, with collection details to follow. All profits from HCPA Marketplace sales help fund parent engagement activities and the HCPA commitment to the Limitless Campaign.
Making Connections Through Arts and Technology Courses
Kasia Ulbin, Senior School Art Teacher
Projects in both Media Arts and Communications Technology courses at Havergal are designed to engage students in creative expression through the use of digital media. Each year guest artists and speakers are invited to our classroom to offer a lens on career opportunities in the media industry while sharing how photography and film can serve as powerful tools for communication.
This year, the Grade 10 Media Arts students engaged in an interactive artist talk by award-winning Photojournalist Louie Palu to consider the authenticity of telling stories through photography. Students were invited to question the images they see in the media while reflecting on their own experiences and participation in image creation.
As a final project, students were invited to participate in a Toronto school-wide youth group exhibition at Gallery 44. This was an opportunity for participants to create image based work as an expression to the theme "Silver Linings," further exploring photography as a tool to communicate meaning.
Students in the Communications Technology Grade 11 course engaged in a talk with documentary filmmaker Jenny Jay, discussing the reality of working on passion projects while managing to be a successful woman entrepreneur in the film industry. 
They explored questions such as: how can we use filmmaking as tools to advocate for change and give voice to marginalized communities, allowing individuals to tell their own stories? How can we use art to foster community and serve as a reflection of the time we live in?
Grade 11 student Azadeh H. says of the experience: "Learning about the importance of authentic storytelling and elevating the voices of people of colour really gave me the vision to have my mother tell her wedding story in her mother tongue. The production of my short documentary opened my eyes to the beautiful traditions of South Asian culture as well as my religion of Islam. Creating short documentaries inspires others to stay in touch with their culture and to learn about others."
As a final project, students further learned about conducting effective interviews, framing concepts and editing to plan and produce their own short documentary films on a topic of interest.
The Art Department is grateful for the opportunity to bring in guest artists to help contextualize the genres of their work and why it's important to the world today.
Cross-Cultural Engagement Through Language Learning
Emily Rodriguez, Senior School Spanish Teacher
This year in my Spanish classes, it has been my goal not only to teach my students language skills in the curriculum, but also to make concrete and tangible connections to the many cultures that exist in the Spanish speaking world and communities.
An example of this is through music, where I have my students learn about the various styles of Hispanic and Latin-American music and then learn the lyrics to a variety of songs. I was fortunate to be able to organize a special virtual event where my students had the opportunity to learn about, meet and talk to an up-and-coming musician from Mexico, Eddie Luno, who happens to be my nephew.
Before the event, my students learned one of his songs by memory and then performed and recorded a video of his song. They were able to share this video with Eddie and it was a wonderful opportunity for cross-cultural engagement, connection and communication.
Havergal's Senior School Business Club
Wendy Hendry, Business Studies Teacher
DECA is a student business case competition designed to prepare emerging leaders and entrepreneurs for careers in marketing, finance, hospitality and management. In the past, Havergal's DECA team has had many successful years in which students competed in regionals, provincials and even international business case competitions. Unfortunately, as a result of COVID-19, DECA Ontario had to take a pause for the 2021-22 school year. This presented a challenge for Business Club Heads Taylor J., Mandy W. and Cindy W., which they took on with enthusiasm. In place of DECA, they organized opportunities for the Havergal Business Club to participate in a wide variety of business-focused competitions (more than the group had in the past), which the Havergal students excelled in. Here are some examples of what they did:
There were 12 Havergal Business Club students who participated in the University of Waterloo Financial Literacy Competition; Doris P. scored fourth in the Grade 10 category and Irina J. scored first in the Grade 11 category. 
As COVID-19 restrictions began to lift in November, 20 Havergal students headed to Crescent School to team up in groups of four to compete in the Crescent/Havergal Case Competition. Our students had a great day and impressed the judges. Top Havergal students included:
Team 3A (Luke H., Sophie H., Matthew O. and Avery S.)
Team 2B (Taylor J., Shay K., Eamonn L. and Katie S.)
Team 3C (Matthew C., Sarah C., Carys D. and Cameron O.)
More than 80 Havergal students participated in the Future Business Leaders of America (FBLA) competition within Canada. Here are some of our top results:

Top 10: 

7th: Errita and Emily X. for Hospitality and Event Management
5th: Hannah C. and Madison W. for Marketing
10th: Taylor J. and Kaelyn S. for Marketing
10th: Jessica Y. for Business Calculations

Top 20: 

Eva D. and Ellie C. for Entrepreneurship
Kelsey and Sydney B. for Marketing
Irina J. and Raeka H. for Marketing
Cindy W. for Business Calculations

Finally, Angelina T. will go on to compete in FBLA Chicago in July as she placed first in the Prejudged Report and Presentation. 
We couldn't be prouder of Angelina and all of our HC Business Club participants.
This spring, our Business Club students can look forward to case competitions with Brock University, Rotman School of Business and another financial literacy competition with University of Waterloo. We wish them the best of luck!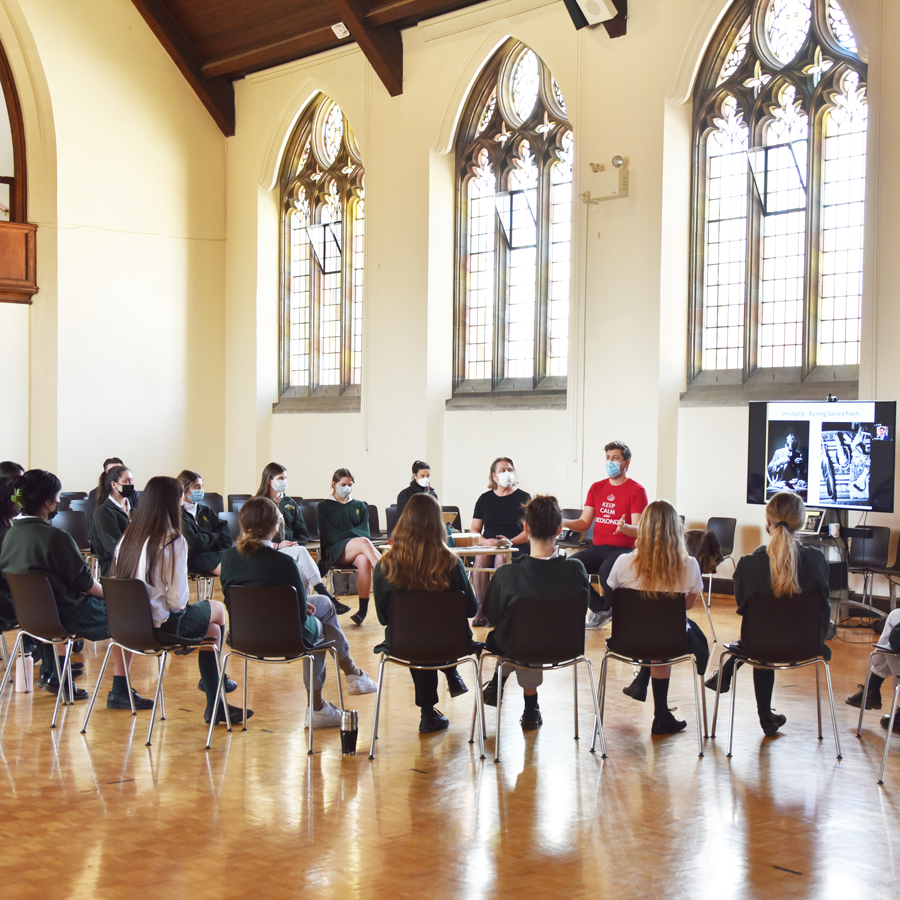 Indigenous Education Partnership Brings Authentic Experience to Complex Ideas
Adam Caplan, HC-X Director, and Denise Hartford, Social Sciences Teacher
In late February and early March, Havergal was excited to have the opportunity to borrow the Canadian Geographic's Indigenous Peoples Atlas of Canada map as a way to engage our community in Indigenous studies. However, when the delivery of the map was canceled because of shipping issues, Indigenous Education Consultant Mike Carlson found new ways to bring learning to life through the power of oral history. 
Carlson, a mixed Indigenous educator at the TDSB's Kapapamahchakwew—Wandering Spirit School, joined Havergal for a week of conversation and community with students and educators in programs ranging from Grade 7 Social Studies to Grade 12 Economics to the Global Learning & Leading Diploma (GLLD).
Social Sciences teacher Denise Hartford describes the impact: "When students see artifacts such as a Wampum belt and hear first-hand about its significance, they experience the importance of the oral tradition. Seeing a photograph of a belt doesn't capture the human component of history."
In Economics, complex ideas about currency, trade, wealth and property rights are put into the context of big questions, such as "who owns the land" and "how we manage its resources." It was enriching for students to contextualize competing views of resource extraction and concepts such as specialization with economic models set out in the curriculum.
We extend our gratitude to Mike Carlson, Indigenous Education Consultant, Anastasia Wowk, Manager of Learning Experiences, and the many faculty who helped create connections to this experiential partnership.
Team Gators Develop Innovative Environmental Solution to Freshwater Pollution
Havergal students (and sisters) Emily and Errita X. (Grade 11 and 10) joined forces as Team Gators to develop a solution to global warming for The Earth Prize, a $200,000 environmental sustainability competition for teenage students with the best solution to accelerate positive change toward environmental sustainability, as judged by The Earth Prize Adjudicating Panel.
The Havergal community is so proud of Team Gators for being named as top 10 Finalists in this global competition. We asked Emily and Errita to tell us more about their project; here's what they said:
"In October, Ms. Wowk from the HC-X sent out an invitation in the Upper School announcements to sign up for The Earth Prize competition. We were attracted to the opportunity of working with a large network of mentors and gaining more knowledge about environmental sustainability, while applying our knowledge on business management. We truly had no expectations or intentions of getting as far as we did.
Our proposal was to create custom macroalgae farms for cities near the Great Lakes and partner with bioplastic manufacturers as a supply chain to effectively change urban consumerism. There's no doubt that climate change is a pressing issue. But, the most pressing problem lies in our waters, the H2O compound that is now bombarded with pollutants, excess nutrients and low levels of dissolved oxygen. After seeing videos and articles about aquaculture in China and Australia, we were attracted by the feasibility yet effectiveness it can bring. Alarming statistics show that lakes absorb over a third of all carbon emissions and 90% of excess heat, which leads to dead zones, imbalanced ecosystems and poor water quality. Macroalgae will effectively and affordably remove toxins, carbon, excess nutrients and restore balanced ecosystems."
Congratulations to Emily and Errita for their dedication to helping the Earth! We would also like to acknowledge another group of students from Havergal—Team Goddess (Carol R., Kaitlyn D. and Carina D.)—who also participated in the competition with a carpooling app.
Torch Magazine Goes Digital
The first ever digital issue of Torch magazine will hit your inbox soon. We can't wait to share this issue with you, which you can enjoy from your favourite device!
Here's what you can look forward to in this year's edition:
Learn about the pedagogy of Havergal's Portrait of a Graduate in the Message from our Heads of Schools.
Discover the innovative learning experiences developed by the HC-X in support of skills development in our Feature Story.
Hear from students in the Junior, Middle and Senior Schools in our Students Speak section.
Immerse yourself in art from students of all ages in our Student Life page.
Read about our School Captain Marley Melbourne's journey from Kindergarten to Grade 12.
And more!
If you don't receive an email from the Communications & Marketing Team with your link to Torch magazine in the coming weeks, please visit havergal.on.ca/magazine/ and contact us at [email protected] to get on the next mailing list.
Happy reading!
Inside Focus
---
The Importance of Skills Development in the Senior School
Deirdre Timusk, Head of the Senior School
If the events of the past few years have taught us anything it is that the need for globally-minded, innovative leaders who act as catalysts for change are needed more than ever before. Our Portrait of a Grad guides us as we design programming that will help students become courageous leaders for the future.
As our students progress through adolescence and into early adulthood, we know that their needs will change. As a result, the program at Havergal has been tailored to meet those changing needs.
In the Senior School, students learn the skills they need to critically interpret the events in the world around them from different vantage points. Visual and digital arts help to spur their creativity and encourage students to view their surroundings in a new light. The projects are designed to help give students voice and choice in their work.
The study of languages also provides a new perspective on the world. American journalist Flora Lewis once said, "Learning another language is not only learning different words for the same things, but learning another way to think about things." These new ways of thinking and knowing are also developed by having conversations with people from outside our community who can help students see different perspectives. In addition, students are challenged outside the classroom to take part in competitions that hone students' thinking skills and encourage them to be able to use their digital skills to be innovative and creative thinkers.
These are just some of the ways the Senior School is helping to develop independent decision makers who will become globally-minded citizens, able to thrive in the complex and changing environment that is our world today. We need them more than ever before.
Meet Our Faculty & Staff
---
Danielle Kindree
Head of Science, Upper School
Ms. Kindree joined Havergal in the fall of 2021 after working at Appleby College as the Head of Science and Technology for five years. She has 21 years of experience as a Biology and Science teacher at co-ed and single sex schools both in Ontario and internationally (in Belgium and Egypt). During her 11 years of teaching internationally, she visited more than 75 countries and earned certification as an advanced open water scuba diver.
With a Master's degree in Education from the University of Bath (England), a Bachelor of Education from Western University and a Bachelor of Science in Kinesiology/Biology from McMaster University, Ms. Kindree has an interest in aligning the teaching of science to thematic questions and in interdisciplinary studies.
Outside of the classroom, Ms. Kindree loves to practise yoga and participates in all sports—rugby and basketball are her favourite activities, which she played for many years. She is an avid sewer and enjoys making all kinds of items, from clothing to bags to table runners. At home, she's kept busy with her two-year-old daughter Ellis and two active cats.